Home > Services > eMail Marketing Campaigns
eMail Marketing Campaigns
---
When was the last time you sent out a large mailing of flyers or brochures? How many pieces made it to their intended mailing address? How many were opened? How many of the people who opened your mailing were interested in product X versus product Y?

Chances are you can't answer these questions unless you have your own private postal worker and a lot of hidden cameras.

With email, on the other hand, all this information is captured for you, automatically and instantaneously. This information, used properly, can greatly improve the success of your marketing efforts.
We help you:
Reach customers and strengthen relationships

Present a

unified

branding in

all

your business

media
Franco Web Solutions works in partnership with Constant Contact, an email marketing company that we work with to create email campaigns utilizing your own opt-in email list.

Every web site should have a way of gathering email addresses from visitors, whether it's with a free give away, a special offer or signing up for your email newsletter. Buying commercial email lists is a hit or miss proposition. Better results are achieved by using the email addresses gathered by your own efforts.
DID YOU KNOW...
HTML email gets twice the response rate as text email.
You can track the success of each email with a variety of statistics.
The Return on Investment (ROI) for email is 70% higher than the next closest marketing medium.
Companies that outsource their email marketing have a 4 times higher success rate.
Constant Contact makes it easy for any business or organization to create professional HTML email campaigns in minutes. Whether you send email newsletters to your clients, promote products and services or invite your members to upcoming events, Constant Contact's customizable email templates, easy wizard and powerful features will make your email campaign creation a snap!
Franco Web Solutions assists in the design and implementation of your e-marketing efforts, enabling the design of your web site to be closely integrated by look and feel. This close integration furthers your efforts at brand recognition across all media.

Please request a quote or call for a personal consultation to discuss your e-marketing needs.
Easy-to-use wizard makes email campaign creation a snap
Add your content and images with our simple email campaign wizard
Easily add features and edit your email campaigns
Preview and send email campaign tests
Choose who should receive your email campaigns and when to send
No technical skill necessary

Powerful enough for Design Professionals
More features with our advanced editor
Easily add your own creative or modify ours
Add email tracking links for campaign reporting
Add dynamic content
Constant Contact supports HTML, XHTML, Flash and audio
Constant Contact Pricing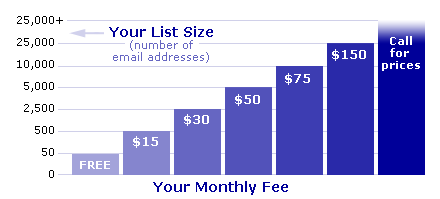 Special Pricing

Prepay & Save

Nonprofit/Education*

---

6 Month Prepay

10% Discount

20% Discount

---

12 Month Prepay

15% Discount

30% Discount

---
* Registration form 501(c)(3) required
Premium Image Hosting
If you are looking for Constant Contact to host more than 5 images per email campaign, Constant Contact Premium Image Hosting service might be right for you!
Features & Benefits
Store More Images - 25MB of image storage (about 1,200 images)
Easily Manage Images - folders, move images, rename etc.
Increased flexibility for image sizing - resize imported images by %, pixels, cm or inches
Other Design Rates and Services

Web Design
Graphic Design
Logo Design
Database programming
Flash Animation
Audio, Video Editing
Web site maintenance (Call for contract pricing)
E-commerce maintenance (Call for contract pricing)


$50.00 hr
$50.00 hr
$50.00 hr
$50.00 hr
$50.00 hr
$50.00 hr
$50.00 hr
$50.00 hr
Back to Top
Back to Index of Services
Back to Services